Things I Learned by Reading 21 Books in 2021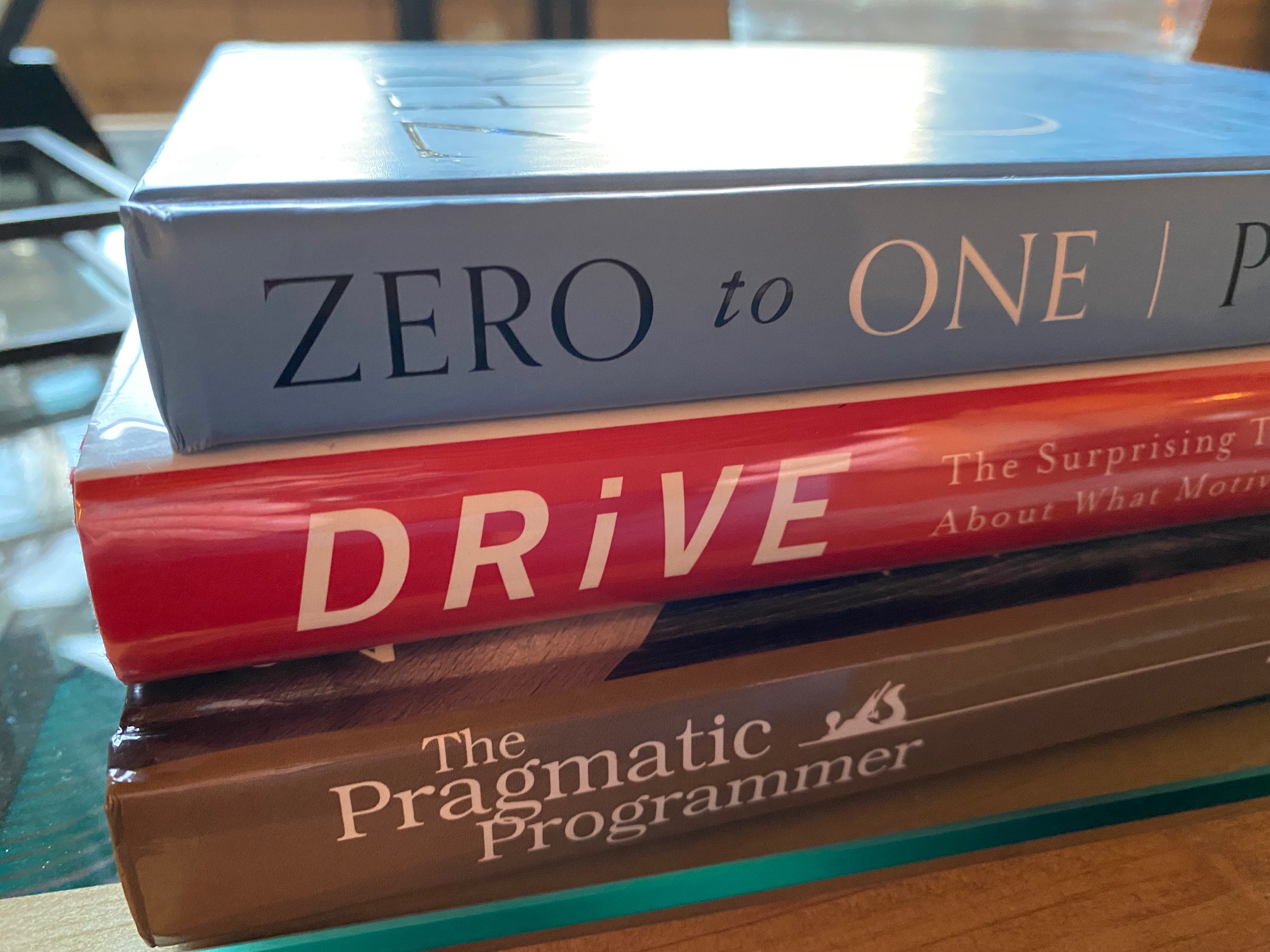 For a good portion of my career, I've enjoyed investing in my learning by reading books. What started as a membership in a developer book club at a previous job eventually turned into a yearly habit of reading two or three books about developing software.
Like most people on this planet, 2020 provided me with a lot of free time at home. Most years prior to the pandemic, I'd find myself traveling somewhere new. With travel not being much of an option in 2020, I started "traveling" mentally through books. I discovered the work of author Peter Hessler, who has written about his experiences living and traveling in Egypt and China, and I found that I could not put his books down.
In late 2020, I became hooked on the idea that I could use books to travel everywhere, even if the pandemic was preventing me from traveling almost anywhere. I started using an app called Goodreads to discover new books, and to keep track of books that I was reading.
As 2021 began, I found that my reading habits only grew. At the beginning of the year, I set a goal in Goodreads to read seven books in 2021. By the time the year was over, I had read 21 books! I've learned a few things about myself as I read throughout the year.
I'm not reading just about software development anymore
When I started reading more, I wasn't thinking just about my career. I used to think about reading as something that I had to do in order to pick up new technical skills. I quickly learned in my first handful of books read in 2021 that reading could serve so many more purposes.
I loved being exposed to the stories that some of these authors had to tell. Learning about Billy Baker's journey of making friends in his adult life in We Need to Hang Out: A Memoir of Making Friends brought a lot of relatable laughs in a time of staying at home. Kal Penn's autobiography, You Can't Be Serious, exposed me to the challenges he faced trying to break into Hollywood and avoid stereotypes. Braver Than You Think brought me on a journey of an eye-opening trip around the world with Maggie Downs.
I was also exposed to meaty content with lots of detailed information to consume. Working Effectively with Legacy Code by Michael Feathers is a book I should have read ten years ago. I was able to expand my technical skill set and reinforce many of my existing software development skills with that read. Reading Capital by Thomas Piketty taught me that I have the ability to make it through a 650+ page academic economics book.
Reading books unrelated to my career made it easier to expand my career
While I was expanding the type of books that I was reading, I found myself expanding the topics of professional books that I read about as well. The professional books I read in 2021 were mostly not about delivering software, but rather they were about topics that were tangentially related to the industry and startups. Expanding my mind to read about so many people and places for enjoyment also allowed me to read about many different professional topics for enjoyment, too.
Last year, I started to take a broader interest in some of the business aspects of marketing and growing software companies. There has been a feedback loop between learning and application of my newly acquired knowledge in my professional life with this pivot.
Last year, Zero to One by Peter Thiel crashed Startup Thinking into my brain, and the ideas will not be leaving anytime soon. I can no longer look at my career without thinking about opportunities to be the last mover into a given market, different styles of pessimistic and optimistic thinking, and the key question in the book: "What important truth do very few people agree with you on?".
80/20 Sales and Marketing by Perry Marshall got me thinking a lot about who my customers are in the work that I do, and how to effectively reach them using the Pareto principle. Drive by Daniel Pink, a book I wrote about on this blog, really got me noodling on what motivates me in my career.
From a professional perspective, the books I read in 2021 opened the door to a whole world that I wasn't living in until very recently. The topics I discovered last year by reading are helping me grow new skills professionally at a rapid pace.
I'm a sucker for gamification
The final thing I learned last year is that I am an absolute sucker for gamification tactics. Gamification, a recent trend in software to add video game style mechanics into non game software, is very present in Goodreads. Goodreads has features to track books read towards a yearly goal, as well as a progress bar that shows you percent completion of each book you're reading: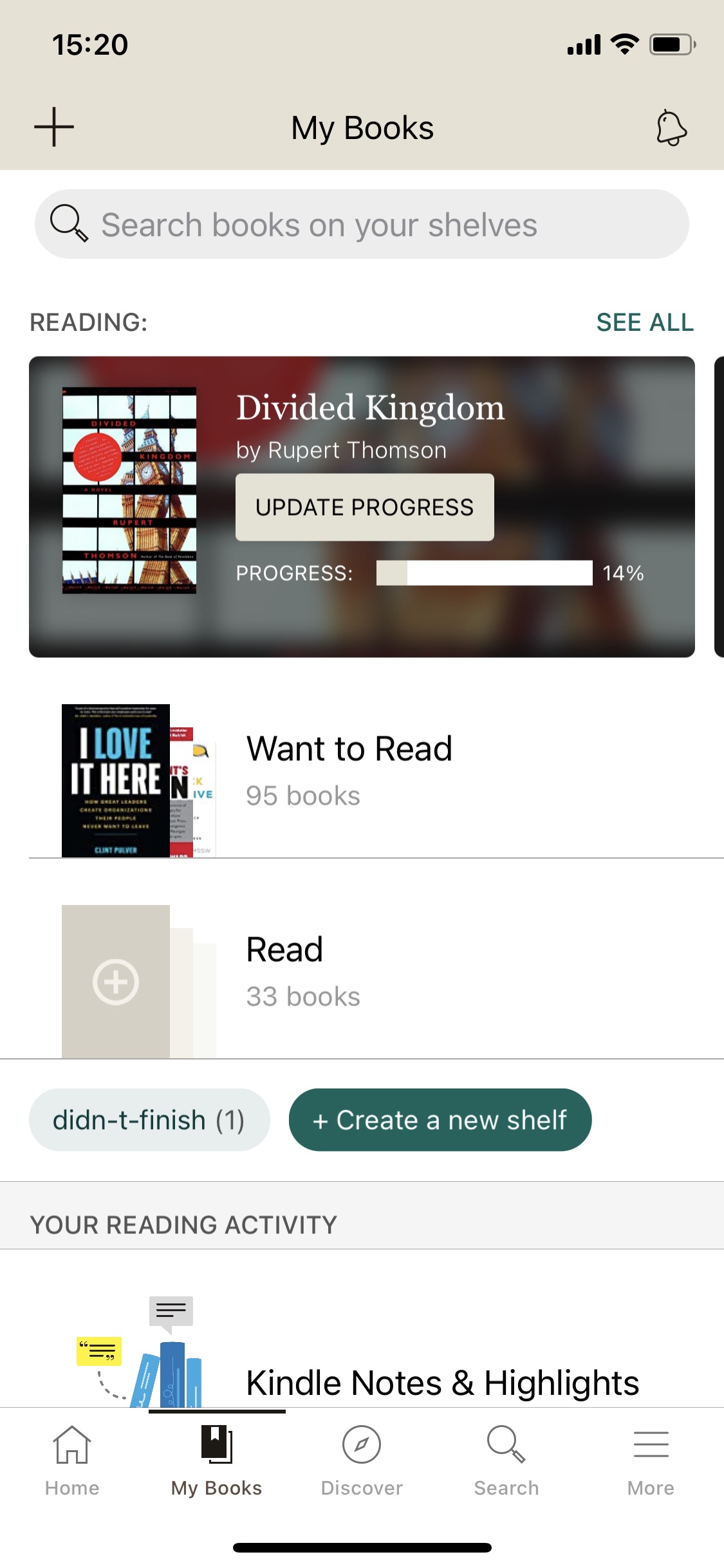 These techniques worked with me. I found myself enjoying seeing the number of books read increase, and the percent done metrics go up. I also found that having both the Goodreads app, as well as the Milwaukee Public Library app on my phone created a feedback loop that allowed me to go straight from book discovery in Goodreads to putting the book on hold at my local library. This allowed me to read more as I never learned about a book and then forgot to get it from the library and read it.
2022
In 2022, I plan to build on this habit that I formed last year. I've got more books I want to read this year than I could have ever imagined. I hope to build off what I learned in 2021 to learn much more this year. My reading goal for 2022 is 22 books.
Here's the full list of books I read in 2021:
Country Driving by Peter Hessler
Eric by Shaun Tan
Tightrope: Americans Reaching for Hope by Nicholas Kristof and Sheryl WuDunn
Here in Berlin by Crisitina Garcia
Zero to One by Peter Thiel
The Story of a Goat by Perumal Murugan
Fake Accounts by Lauren Oyler
We Need to Hang Out: A Memoir of Making Friends by Billy Baker
The Lost Continent by Bill Bryson
On the House by John Boehner
Giannis: The Improbable Rise of an NBA MVP by Mirin Fader
Drive by Daniel Pink
Working Effectively with Legacy Code by Michael Feathers
The Kite Runner by Khaled Hosseini
Behold the Dreamers by Imbolo Mbue
Capital in the Twenty-First Century by Thomas Piketty
80/20 Sales and Marketing by Perry Marshall
Behind the Beautiful Forevers: Life, Death, and Hope in a Mumbai Undercity by Katherine Boo
Braver Than You Think by Maggie Downs
You Can't Be Serious by Kal Penn
State of Terror by Hillary Rodham Clinton and Louise Penny